For your guidance. Please plan your visits and packages accordingly.
Schedule announcements are done on Facebook and Instagram.
For inquiries, questions, suggestions and requests for special classes, please email info@treehouseyogaph.com or you may send an SMS/Viber to 09178506550.
Temporarily not accepting phone calls - currently out of the country.
Find the class that suits your energy.
A balanced practice that works on all the major body parts, Hatha-Vinyasa is the perfect progression that builds your strength and endurance from foundation poses to the more intermediate poses. While we still hold poses for a few breaths, we also transition smoothly to the next pose and then to the next, keeping in mind principles of alignment and breath.
Usually a moderately-paced type of yoga with sequences linked to form a flow, Vinyasa builds heat in the body and offers intermediate to advanced variations of the poses. A basic familiarization with the asanas and alignments will surely come in handy in this class, but beginners are always welcome.
A 75-minute morning sequence that mixes your Vinyasa practice with the delicious stretches of Yin Yoga and/or the relaxing poses of Restorative Yoga.
This Treehouse signature class allows you to slow down, embrace silence, and work on restoring the body, mind, and spirit. Great for combating mental stress, emotional issues, and tired bodies. Yin Yoga is a quiet practice focused on passive stretches, targeting the joints, ligaments, the deep connective tissues of the body, and the fascia - the thin, web-like tissue that covers the body. Because of its slow and meditative nature, Yin Yoga is often used to deal with stress, anxiety and deep pain, or trauma. Coupled with any other type of yoga practice, Yin Yoga improves your flexibility through passive stretches held for a longer period of time.
Jivamukti is a physical, ethical, and spiritual practice, combining a vigorous Hatha yoga, Vinyasa-based physical style with adherence to five central tenets: shastra (scripture), bhakti (devotion), ahimsa (nonviolence, non-harming), nāda (music), and dhyana (meditation). Best for people looking for a more holistic yoga practice and/or ready to take their yoga to a deeper, more philosophical level.
Classes and teachers are subject to change without prior notice. To check for updates, cancellations, and changes, please visit our LIVE CALENDAR, or follow us on Facebook (treehouseyogaph), or join our Facebook group, Treehouse Yogis.
A Vinyasa flow class with the pace of Hatha. This class focuses on alignment, transitions, prop use to both intensify and de-intensify the poses, and proper execution of the most common Vinyasa sequences. Great for all levels: beginners will have time to work on Vinyasa poses, while intermediate and advanced practitioners get to build strength as they hold poses for 5 to 8 breaths.
NOTE: The studio opens 10 to 15 minutes before each class starts, and closes 15 to 30 minutes after.
Walk in inquiries will only be entertained during the window hours before and after each class.
Ashtanga Modified Primary Series (MPS)
A modification of the primary series (MPS) includes sun salutations, standing and seated postures. The first part of class will start with a warm-up series of sun salutations to build up heat. The standing series promotes balance and symmetry in the body and aids in the process of detoxification and toning of the body. The final part of class is a deeper focus on seated postures with the intention of keeping poses modified and accessible to each student's individual level. A seated meditation will conclude the practice with deep relaxation, or savasana. The MPS class introduces the students to the breathing and movement techniques used specifically in Ashtanga Vinyasa Yoga. It is designed for beginners and moves slower with more detail on alignment.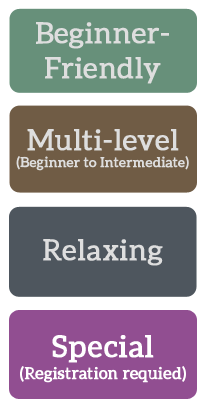 Great for beginners and for experienced yogis alike. Focuses on alignment and breath while executing and moving through essential yoga poses. May include introduction to and preparatory strengthening for some intermediate poses.
For regular practitioners of yoga asana and "experienced beginners" who are looking to move with creativity and mindfulness. May include intermediate poses and peak poses, depending on the general level of the class.
For people looking for a nice stretch or some quiet time for themselves while restoring the body's flexibility.
May include time for reflection, meditation, and introspection and some mental and emotional work.
Registration is required to join this class. Kindly send an SMS to Rachel at 09178506550 at least 3 days prior to schedule.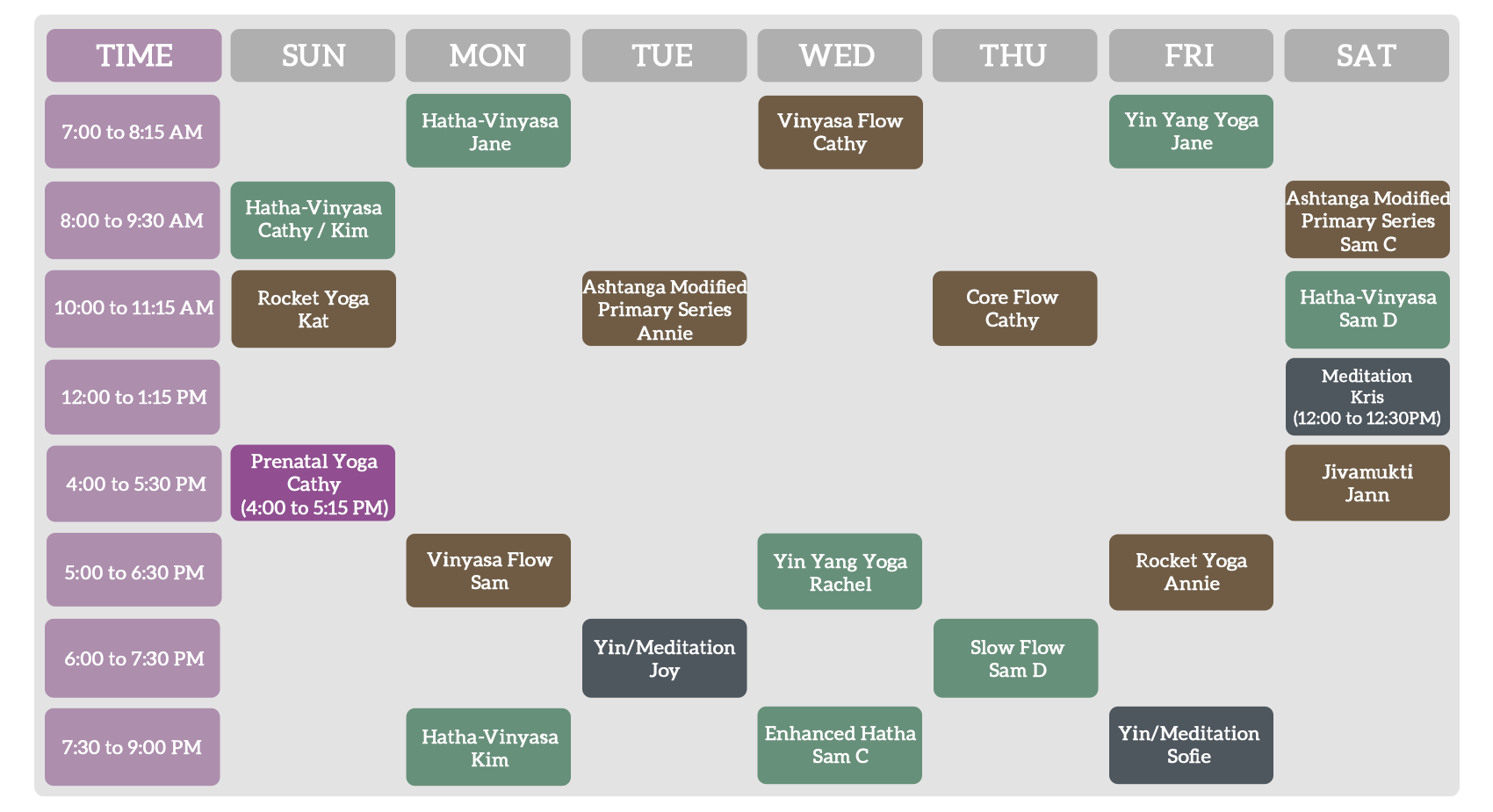 PRENATAL YOGA requires registration and reservation prior to joining. Deadline for registration is every Thursday. Drop-in is Php 850/session for public classes and Php 1,500 for one-to-one classes.
MEDITATION (Saturday at 12:00 PM) is FREE of charge.
March 21, 10:00 to 11:30 AM - Animal Flow [Register here.]
A Pilates-inspired class, Core Flow focuses on strengthening the core, supporting spine integrity and better posture. The poses in this class will work on the abdominal muscles, back muscles, and the muscles around the pelvis. Having strong core muscles prevents injuries and helps support your overall yoga practice -- watch your inversions improve over time!
Enhanced Hatha emphasizes the breath and the foundation of each pose to economically restore normal biomechanical patterns and prevent injury. There are no traditional sun salutations; chaturangas are substituted with other movement disciplines that enhance mobility. Yoga Therapy concepts like Dynamic Neuromuscular Stabilization and Functional Range Conditioning are incorporated into the sequence.
Copyright 2015 to 2020 | Treehouse Yoga
All levels of practitioners are welcome to Rocket 1 as we will focus on strengthening the legs, shoulders and abdominals. Be ready to move a bit faster and get a lot stronger. The Rocket 1 Routine integrates postures from the first and second series of Ashtanga Vinyasa.