Find the class that suits your energy.
Usually a moderately-paced type of yoga with sequences linked to form a flow, Vinyasa builds heat in the body and offers intermediate to advanced variations of the poses. A basic familiarization with the asanas and alignments will surely come in handy in this class, but beginners are always welcome.
A 75-minute morning sequence that mixes your Vinyasa practice with the delicious stretches of Yin Yoga and/or the relaxing poses of Restorative Yoga.
This Treehouse signature class allows you to slow down, embrace silence, and work on restoring the body, mind, and spirit. Great for combating mental stress, emotional issues, and tired bodies.
We are supporting the yoga community while on Enhanced Community Quarantine by offering classes via Zoom.
A Vinyasa flow class but with a slower and more deliberate pace. This class focuses on alignment, transitions, prop use to both intensify and de-intensify the poses, and proper execution of the most common Vinyasa sequences. Great for all levels: beginners will have time to work on Vinyasa poses, while intermediate and advanced practitioners get to build strength as they hold poses for 5 to 8 breaths.
Requirements: Zoom login, internet connection, a space to move, and a device with a camera.
We highly encourage our students to use video so our teachers can adjust their sequences and pace and give you personal assistance verbally. Kindly be responsible with the space you will be sharing and viewing. Classes are subject to change and announcements are done on our Facebook and Instagram pages. All classes are multi-level.
Community practice from home.
ONLINE CLASSES (Manila time, +08:00 GMT)
A modification of the primary series includes sun salutations, standing and seated postures. The first part of class will start with a warm-up series of sun salutations to build up heat. The standing series promotes balance and symmetry in the body and aids in the process of detoxification and toning of the body. The final part of class is a deeper focus on seated postures with the intention of keeping poses modified and accessible to each student's individual level. A seated meditation will conclude the practice with deep relaxation, or savasana. The MPS class introduces the students to the breathing and movement techniques used specifically in Ashtanga Vinyasa Yoga. It is designed for beginners and moves slower with more detail on alignment.
Enhanced Hatha emphasizes the breath and the foundation of each pose to economically restore normal biomechanical patterns and prevent injury. There are no traditional sun salutations; chaturangas are substituted with other movement disciplines that enhance mobility. Yoga Therapy concepts like Dynamic Neuromuscular Stabilization and Functional Range Conditioning are incorporated into the sequence.
Copyright 2015 to 2020 | Treehouse Yoga
All levels of practitioners are welcome to Rocket 1 as we will focus on strengthening the legs, shoulders and abdominals. Be ready to move a bit faster and get a lot stronger. The Rocket 1 Routine integrates postures from the first and second series of Ashtanga Vinyasa.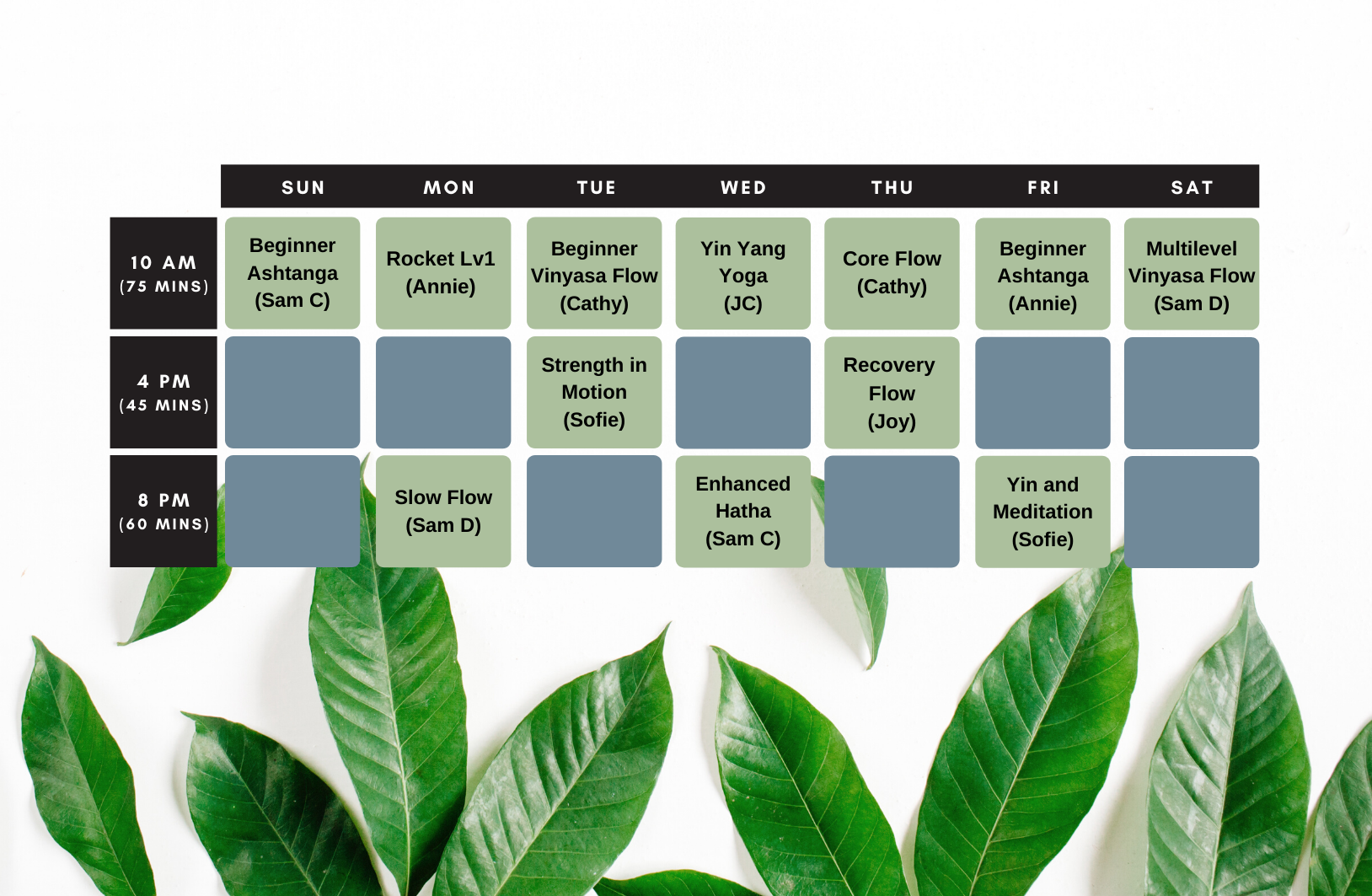 This is a 45-minute body weight circuit class that aims to develop strength and endurance and work on your range of motion. Expect some cardio and a fun environment. This is open for beginners and complements all movement and fitness disciplines.
A 45-minute yoga class that focuses on active and passive stretches, mobility, and muscle restoration. This is great for beginners who have no yoga experience at all and for those who are physically active with a strong practice looking to stretch their muscles. This prevents muscle strains and tightening.